El Camino: A Breaking Bad Movie (2019).
*** POSSIBLE MINOR SPOILERS ***
Note – Before I begin I'd recommend watching all of Breaking Bad before watching El Camino.
Do TV movie spin-offs work?
Films normally introduce new characters that you're going to learn about over maybe a two hour period and likely never see on screen again. That can be time enough if the films are good. TV shows allow characters to grow and evolve over the time they're broadcast, be it over 30 years (The Simpsons) or eight seasons (Game of Thrones). If you go back to the 1970s for example, a slew of British TV shows bore large screen adaptations that for the large part did not translate well – On The Buses and Are You Being Served? spring to mind – mainly because in that era, television was almost looked down upon when compared to film. This might have been owing to its easy access and low production values, the almost disposable nature of TV just 'being there' and that home entertainment was strictly confined to the television (unless you were lucky enough to own a projector). Not that TV was bad in that era at all, but compared to what I will argue is THE golden age of television that we're currently experiencing, with production values almost equalling those of a minor blockbuster, and with more choices increasing on the multiple platform services available, it can almost seem that your programme has to be one of the very best available to stand above all of the others.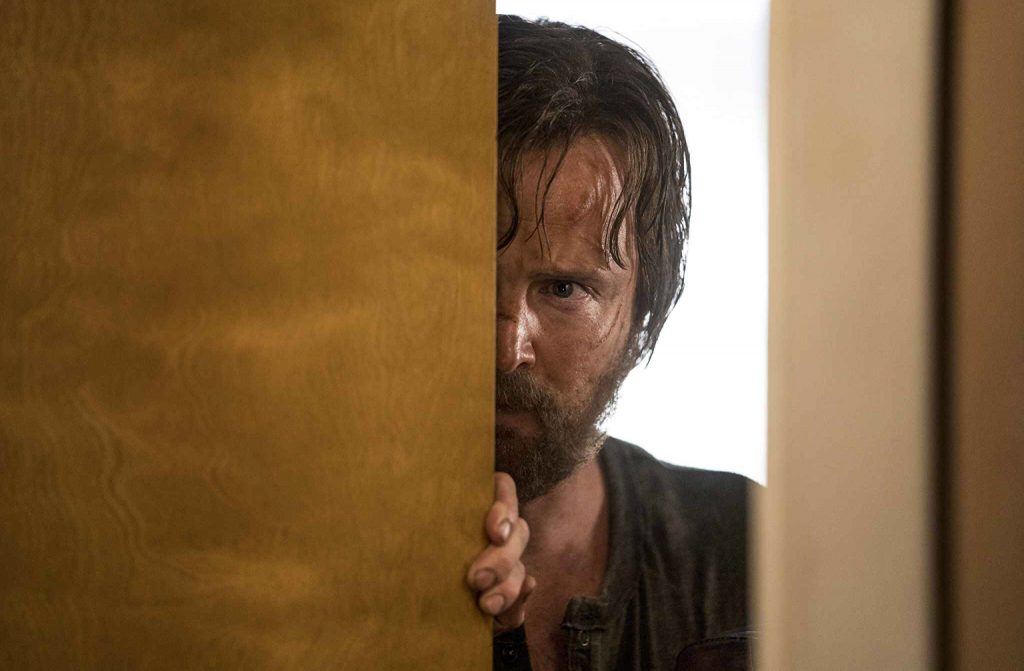 Breaking Bad was one of those TV shows. It was shown initially on AMC in the US but gained momentum when it hit Netflix worldwide (with its own regional versions which makes for some amusing YouTube clips).
It's widely regarded as being one of the greatest TV shows ever made, and is considered by many as the greatest (for me personally that accolade goes to The Wire, but it's so very close).
What Breaking Bad did over five seasons was show a good, decent man, a chemistry teacher, Walter White (Bryan Cranston in a performance for the ages) get dealt a crushing personal health issue that would change his life and the lives of many others in a manner that even as it unfolds, is horrifying, nerve shredding, hysterically funny and moving all at once. And that's just one of the show's many characters. 
The path that Walter chooses to take to ensure that his family is cared for after his terminal diagnosis (this isn't a spoiler by the way, it's the whole premise of what the show is based around) is that of a drug manufacturer and supplier, a vocation he gets introduced to by his DEA brother-in-law Hank (Dean Norris in full alpha male bravado mode) where on a ride along he witnesses a former under achieving pupil fleeing from a Meth Lab. Said former pupil is Jesse Pinkman, played by Aaron Paul. 
If Walter's plight is initially tragic, Jesse's life is an outright disaster. His lifestyle is chaotic, the choices he makes are poor but Walter sees in Jesse an opportunity. And that's where everything begins. What every major character goes through over the five seasons is determined by the choices and actions of this very odd pairing. 
Cranston had his perfect foil in Aaron Paul (and they were both lauded with numerous awards as a result). With Paul's beginning as the crass, profane, sometimes bewildered but wide eyed innocent eventually evolving into a far more world weary and capable individual, it can perhaps can be argued that he goes through more emotional arcs than even Walter and loses considerably more during the seasons to the point where when the series ended in the manner it did, it came as some sort of relief. 
Directed and written by the creator of the show, Vince Gilligan (who was also responsible for the brilliant spin-off off show Better Call Saul), El Camino immediately starts where Breaking Bad ended with Jesse's euphoria in escaping his brutal captors. 
Aaron Paul obviously takes centre stage and he makes the most of such an opportunity. Gilligan makes the decision to fill in some of Jesse's off-screen moments from the TV show which adds to the impact of his mental state. This jumping around of time frames involves three stages of Jesse, if you will – O.G. Jesse, Prisoner Jesse and Jesse the wanted man. And it's no surprise that Paul handles it and adds to an already well established and fascinating character which speaks volumes of him and Gilligan. 
Some established Breaking Bad cast members return (Skinny Pete and Badger, Yo!) while there are others you might struggle to remember initially. One returning member of the cast, and this isn't body shaming, does look markedly different to his TV appearance which does sort of change the flashback story as a whole, but hey, I definitely don't look like I did 6 years ago either. 
The stylistic themes of the show are adapted for the film (still vistas of the stunning Alberquerqe, New Mexico landscapes, great tracking shots, unusual camera angles) plus a brilliant overhead shot almost reminiscent of De Palma but with time lapse (another staple of the show). It maintains the blackest of humour alongside a moment of recoil (a Dr Hook song being sung at the same time as the aftermath of something unpleasant to say the least) which was another trope of the show. 
There are scenes that are also incredibly tense; a near miss with Police, a nosy neighbour, a modern day Western 'draw'. The film does have a lone gunman feel to it, although Jesse is not seeking revenge initially, he does become more heroic as the film moves on and is afforded some hero shots.
The mere fact that a Breaking Bad film got made and went almost totally under the radar prior to the recent trailer release is impressive, even more so that it was filmed on location with some of the same locations from the show revisited. 
El Camino doesn't feel like an extended episode of the show and is very much a film in its own right and very good one at that. Can it be seen cold with no knowledge of the show before? I suppose it could, but it wouldn't fill in the blanks adequately enough and wouldn't carry anywhere near the same impact that it would for those familiar with the show. Gilligan has made a surprising choice in not only making a sequel, but the structure he employs defied my expectations and Paul's great performance helps extend the shows remarkable legacy. Overall El Camino is very nice surprise and a fitting footnote to one of the very best television shows of recent times.
Film '89 Verdict – 8/10
El Camino is now on limited theatrical release in some territories and is available on Netflix.