Red Dwarf XII Episode Titles Revealed.
As the promotional campaign steps up for the impending twelfth series of Red Dwarf, Dave, the home of Red Dwarf released a Wordsearch via Twitter today containing the 6 episode titles.
For those too busy to find the titles for themselves, they are as follows:
Cured
Siliconia
Timewave
Mechocracy
M-Corp
Skipper
It's not known whether this is broadcast order, and it's anyone's guess which of the episodes feature the photos released over the last couple of weeks. Will "Mechocracy" see an influx of mechanoids, and include the rest of the crew being transformed into mechs?
Will "Timewave" see an aged Dave Lister, not unlike the version seen in Series 1's "Future Echoes" (albeit without the mechanical arm), and Rimmer complete with Series 1 and 2 inspired khaki uniform, large H and grey bunk room?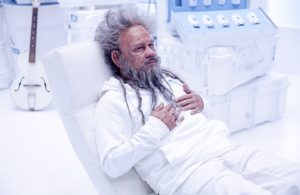 Will "Skipper" see the return of Ace Rimmer? Skipper is, after all, Ace's nickname for Lister.
The four core characters that form the Red Dwarf posse all return for the new series plus we'll see the return of at least one fan favourite in what has been the worst kept secret in the history of the small rouge one (blame the actor). Having personally been present at one of the recordings of the new show, there is a definite classic feel to it and a return to form for the series, that next year hits its 30th anniversary, feels very much on the cards.
Broadcast of the 6 half hour episodes of Red Dwarf XII is currently scheduled for Autumn 2017 on Dave.